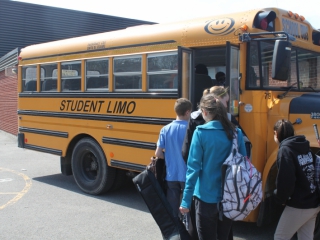 Our students arrive at school in a variety of ways. Many parents drive their children to and from school. Car pooling is strongly encouraged. Some children travel to school on public transit.
In addition, a school bus runs south on Yonge Street from Richmond Hill making various stops along the way to accommodate families coming in from the north GTA. We also offer a southern bus route from Don Mills and Eglinton to the school!
WCS employs Student Limo Ltd. for this service. Families who use the school bus for transportation pay an additional annual fee for this service.
2018/2019 SCHOOL BUS FEES
2 days/week/child: $1,150.00
3 days/week/child: $1,400.00
5 days/week/child: $2,300.00
Maximum: $3,400.00/family/year
Please contact us if you'd like more information about transportation.